O2 Living's Live Food Cafe
Stop in for a bite, discover a new way to eat!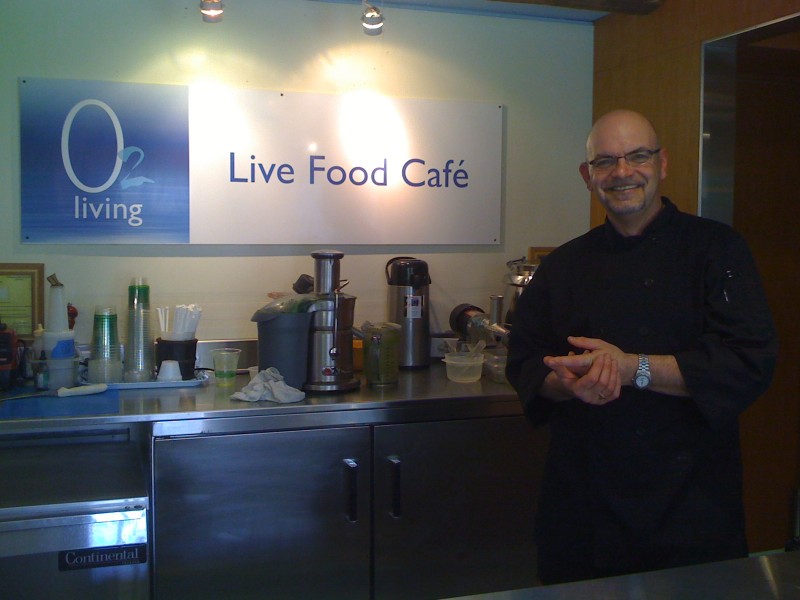 Recently I stopped by O2 Living in Yellow Monkey Village to take a yoga class but, once I caught a glimpse of the pretty little café attached to the studio, I decided to see what the fare would be like at this holistic wellness center. I hoped it would complement post-yoga zen-like state.
I was not disappointed.
The Live Food Cafe is a vegan restaurant (no animal products used whatsoever) that promotes healthy living through a plant-based diet. The man behind the meals is Tom Donnelly. He's a self-described "traditional chef" who has retrained his cooking prowess to include only organic, vegan ingredients. Not only does he prepare delicious meals and juices, he is also a walking advertisement for how changing your diet can change your life.
"Eight months ago, I was 50 pounds heavier," says Donnelly. "When I started working here I had to learn all about macro-biotic and whole life diets and I thought wow, there's something to this."
Donnelly says he eats the foods he now cooks and drinks lots of green juices; composed of cucumber, fennel, celery, kale, parsley and lemon, he calls them "liquid salad." In eight months, not only has he lost weight, he's lowered his cholesterol and no longer takes daily medication.
"I feel amazing. My life has totally turned around," Donnelly said.
O2 Living and the Live Food Café are the brainchild of Rosemary Devlin, a 17-year-resident of Irvington and the mother of five boys. One of Devlin's sons suffers from chronic asthma. As Devlin researched treatments for asthma, she discovered the benefits of yoga, breathing and a vegan diet.
"Everything we do to our bodies each day, including all of the food we eat, plays a large role in determining how we will function for the rest of our lives. I hope with the yoga studio, new spa and vegan life food cafe, O2 Living visitors will learn what treating your body well means and become inspired to do so every day," said Devlin.
I couldn't choose just one dish, so I decided to taste-test some of the café's most popular dishes and daily specials. I tried Donnelly's vegetable sushi, marinated tempeh wraps (soybeans fermented into a cake-like form – it tastes much better than it sounds), and a chickpea salad with apples, celery, carrot and a local cider vinegar – delicious!
There's no oven to be found at this café, just a dehydrator, a blender and a food processor. "It's all knife skills," says Donnelly.
There's also an assortment of breakfast breads, teas, and fresh fruits and parfaits. Diners may indulge a sweet tooth with the raw, organic cookies.
I have to say I felt so good after my meal. It's amazing how terrific a diet full of veggies and whole grains can make you feel. My my guilt-free meal also made a small imprint on the environment: the cafe recycles, composts and uses only eco-friendly products.
You don't have to take a yoga class or a spa treament to enjoy the cuisine at the Live Food Café. It's open daily to the public, on Monday, Wednesday and Friday, 8:30 a.m. to 5 p.m.; Tuesday and Thursday, 8:30 a.m. to 6:30 p.m.; and Saturday and Sunday, 8:30 a.m. to 4:30 p.m. For more information call (914) 763-6320 or visit their website.